Meet Your Master Shooting Instructor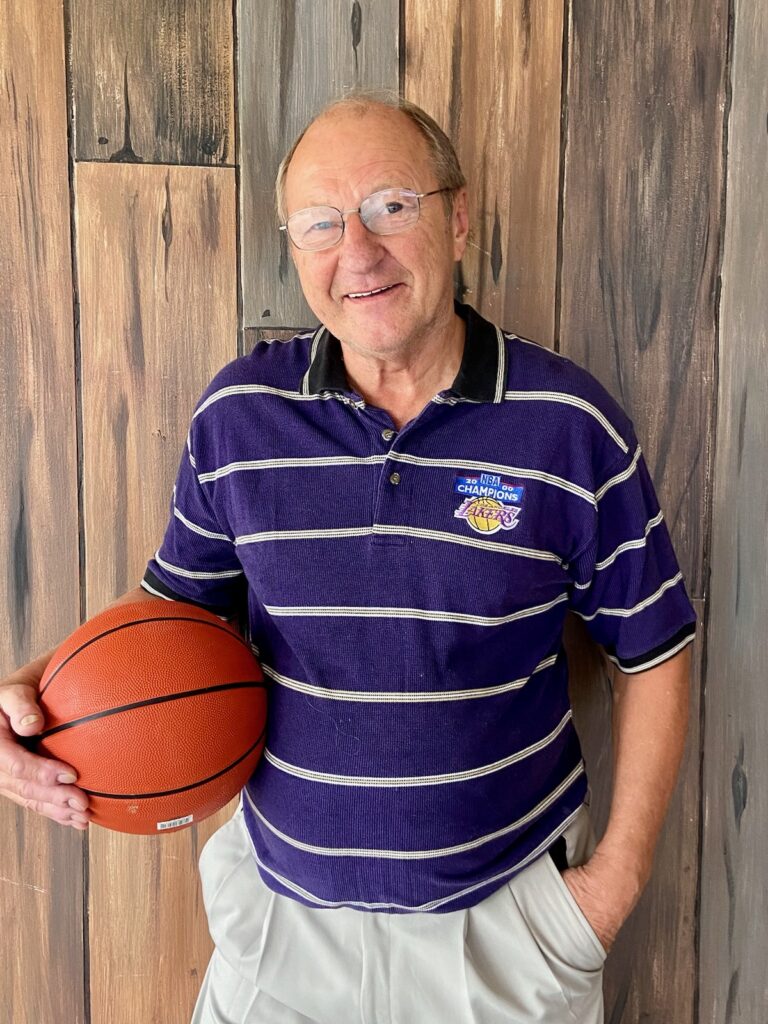 Meet Eddie Palubinskas, a basketball legend and master of the "Perfect Shot." With a storied career as a player, coach, and teacher, Ed has become a renowned expert on both the jump shot and free-throw shooting and an inspiration to players around the world.
From the age of 18, Ed was already making a name for himself, earning the title of Mr. Basketball Australia. He played college basketball in the US at Ricks College and LSU, where he shot an incredible 92.4% from the free-throw line. The best in college and the pros. No one was better.
Ed's talents were also on display on the international stage, where he played for the Australian Olympic team in 1972 and 1976. He set three world and Olympic records in scoring, averaging 33.1 points per game and scoring a game-high of 50 points without a 3-point line. His Olympic scoring records held for 47 years – only surpassed in recent years with the addition of the 3-point line.
Eddie went on to receive a master's degree at BYU and a teaching and varsity basketball coaching position at a Utah high school. One fateful day, driving home from varsity practice, Ed's car hit an ice patch and crashed into a bridge, leaving him with a broken leg. During his healing process, Ed spent countless hours in a wheelchair focusing on perfecting his shot. He used his time in the chair to push his upper body, arm, and hand to become more accurate than ever before. Through trial and error, he learned the perfect elbow, arm, and hand position. The perfect shooting angle and the perfect follow-through. He developed the exact shooting mechanics required to surpass 92%. Today Ed's hard work and dedication have paid off, and he has perfected his shooting to the point where he has not shot less than 99% in free throws, whether in competitive play, pick-up games, or casual shooting sessions in the gym or on the driveway.
In 1992 Ed coached Central Private High School girls' varsity team. The team won the state championship. Christy Sides was Coach Ed's standout player and with Coach Eddie's teaching skills Christy set many scoring records finishing high school in 1995 with 3,375 points. Christy went on to have a great college career. Following her playing career Christy turned to coaching. Christy Slides is now the head coach for the Indiana Fever WNBA.
Due to the success with the girls' team, Coach Ed was asked to take over Central Private boys High School team in Baton Rouge that had finished the season 3-30. In preparation for the next season Coach Eddie taught his players to shoot. He taught the proper hand position, he taught the exact finger placement, he taught where to find their shooting pocket. He taught exercises to strengthen their fingers, hands, and arms.
He taught them perfect follow through. The following year, this same team went 30-3, averaging 113 points per game. Shooting over 60% from the field and 82% from the free throw line. In one year they went from the bottom of their league to the semifinals in the
state tournament.
In 2001 Ed was call on to be the Lakers shooting coach. That year they won the world championships.
In 2008 Ed coached the Australian women Opals. That year the Opals won the world games.
In 2014 Ed was the Phoenix Mercury shooting coach. That year Phoenix set the free throw record in percent made in professional basketball. Since Ed's time with the Mercury the team has gone on to set record after record in free throw and field goal percentage shooting.
As a coach and teacher, Ed has become a highly sought-after expert. Coach Eddie has been called on by AAU, High School, College, and Professional coaches worldwide. They have asked him to come and teach the perfect shot to their players. All with great success. Teams in Australia, China, Philippines, Bahrain, Lithuania, Columbia, Germany, Spain, Italy, and the USA, to mention a few. Coach Eddie has developed the science of shooting. With his extensive knowledge and his ability to break down every aspect of the shot, Eddie has become the premier basketball shooting coach in the country, if not the world.
Coach Eddie has spent the last number of years teaching shooting by request of players, coaches, or parents. He is now offering clinics open to the public. Over the next few months, new clinic locations will be made available for anybody who wants to improve their shooting skills. Don't miss the opportunity to work with coach Eddie and take advantage of the premier basketball shooting coach and shooting clinic in the country. With his expertise and experience, Eddie can help you take your shooting game to the next level.